xkcd
makes, as so often, a great point: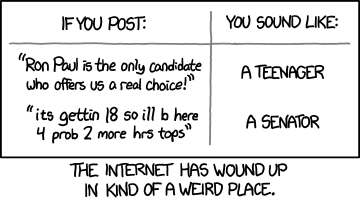 Yeah, a weird place for language use. Next time you hear somebody bitching about texting and leet speak ruining English, maybe they're a 17-year old libertarian?
But more seriously, Wonkette has a piece showing almost exactly what's in the comic. If you go
here
, you'll see that the speaker of the House in Michigan texted this:
"Can they get the paperwork to u and u get to me …"
And the speaker eventually got this response from a state representative (no, not a senator; that would be too perfect):
"All will then b perfect!"
Wow. (Click the link for politicians txting, stay for the stunning moral bankruptcy.)
PS:
Given where a lot of Rs are at now, Paul is hardly a 'real choice'. If you want an alternative to Obama and Romney, that's probably more like
Jill Stein
.